The coupé-SUV is a relatively new niche, but it's one that has expanded rapidly in the last couple of years. 
Initially starting at the larger end of the market with models such as the BMW X6, today, almost every brand in the SUV sector is trying to boost sales with a sleeker variant of an already-established model, and it's happening in pretty much every corner of the market. Volkswagen is the latest manufacturer to conduct a bit of range expansion, and with 40 per cent of sales taken by SUVs last year, it's not hard to understand why. 
This is the Taigo, which is an alternative to the brand's smallest SUV, the T-Cross. It looks the part, but does it do enough to stand out in a growing market segment?
One of the pioneers in this niche is still going strong. The Toyota C-HR arrived in 2017 and has already been the subject of a facelift. It sits in an odd position in this class, though, because it's slightly larger than the Taigo, but is a little more compact than the Renault Arkana, another coupé-SUV, which the C-HR saw off in a previous twin test. 
So has the C-HR got things just right once again, or will the German newcomer set a fresh benchmark?
Volkswagen Taigo
| | |
| --- | --- |
| Model: | Volkswagen Taigo 1.0 TSI DSG Style |
| Price: | £28,255 |
| Engine: | 1.0-litre 3cyl turbo, 108bhp |
| 0-62mph: | 10.9 seconds |
| Test economy: | 44.0mpg/9.7mpl |
| CO2: | 134g/km |
| Annual road tax: | £165 |
Volkswagen's foray into the coupé-SUV market starts from £23,155 – roughly £1,000 more than the T-Cross on which it's based. The 1.0 TSI DSG Style model we're testing here costs £28,255, or £29,980 with options.
Design & engineering
Unlike some coupé-SUVs, the exterior changes from T-Cross to Taigo are fairly extensive. The front end gets a lower bonnet, below which a wider grille flows into sharper headlights. These feature LED tech as standard, while a more advanced matrix set-up is fitted to this Style model.
The Taigo's overall length has grown by 150mm over the T-Cross, and its height has been reduced by 66mm, while the roof slopes down much more dramatically than on the boxy T-Cross. At the back, there's a full-width light bar that's punctuated by the familiar Volkswagen logo. 
Inside, the VW's dashboard is carried over from the T-Cross. Light-coloured plastics help to give the cabin a lift, and if you're willing to pay £135 extra, it's possible to have the dash painted to match the exterior paint colour, as seen in our test car. Its dash top is finished in softer plastics, and the steering wheel is pleasant to hold, too.
We're not a fan of the climate controls, though. Volkswagen has moved towards touch-sensitive controls across many cars in the range, and they cause almost unanimous irritation. Here, they're mounted very low and aren't easy to use – we'd much rather have some physical switches. 
Under the bonnet, the Taigo is petrol only. A 1.0-litre three-cylinder turbo is offered with a choice of 94bhp or 108bhp outputs (we have the more powerful version here), while the range is topped by a 1.5-litre turbo with 148bhp.
The model on test is equipped with a seven- speed automatic gearbox. A six-speed manual is standard, and VW reckons that the 108bhp petrol with a manual will be the most popular powertrain option in the range.
Driving
Unless you must have an auto, we'd save some cash and buy a Taigo with that manual shifter. The DSG gearbox is smooth enough once it's up to speed, but it can be jerky when performing parking manoeuvres. It's also a bit lazy to engage, so if you find yourself in a position where you'd like to pull out of a junction in a hurry, then it might not be very willing to help you out. 
The engine itself is a sweet unit, though. While the three-cylinder layout produces more vibration than the Toyota's four, it's never unpleasant. Under hard acceleration, it's more muted than the C-HR's engine, and the tone is lower and less harsh. 
At 10.9 seconds, the Volkswagen undercuts its rival's 0-62mph time by a negligible 0.1 seconds. The C-HR's hybrid system feels more willing off the line, but at motorway speeds the Taigo is more responsive.
The chassis plays a part in this, too. The VW is set up for stability, which makes it a great companion on longer journeys – and that's a bonus for a car of this relatively small size. There's perhaps a little more road noise than we'd like, but the engine settles right down at the national speed limit.
However, we're not particularly impressed with the ride comfort at lower speeds. Even though our Taigo had 17-inch wheels – an inch smaller than the Toyota's – there was a subtle but constant fidget that, over the same roads, didn't register in the C-HR.
Practicality
The Taigo is smaller than the C-HR on the outside, but it's more spacious inside. At 440 litres, the boot is only 15 litres smaller than the T-Cross's, and is 63 litres ahead of the C-HR's. In addition, the opening is larger, the load lip is slightly lower and there's an adjustable boot floor. Levers on the shoulders of the seats mean it's easy to fold them, and a total volume of 1,222 litres is 58 litres ahead of its rival here. 
Storage up front is hit and miss. There's a roomy space to hold a smartphone, and a rubberised pad reduces the chances of your device sliding around. However, the two cup-holders between the front seats are hexagonal in shape and can't hold much more than a small coffee cup.
On the positive side, the Taigo is fitted with Isofix points front and rear, and those in the back are easy to reach, thanks to large, open plastic surrounds. The C-HR's are similarly good – they're hidden behind plastic covers – but the Toyota's back doors are smaller, making it harder to wriggle a child seat into position.
Ownership
Euro NCAP tested the Taigo earlier this year, and it scooped a maximum five-star rating. This included an adult occupant result of 94 per cent – the best figure so far in 2022, matching the mechanically similar VW Polo. Standard safety kit on a Taigo in Style trim includes a lane-keep assist system, blind-spot detection, adaptive cruise control and a city emergency braking function.
Running costs
Volkswagen's 1.0-litre TSI petrol is a frugal unit, and the Taigo achieved 44mpg with us. However, it couldn't match the 57.2mpg returned by the hybrid C-HR, so there's a big difference between these two for fuel costs. Over 20,000 miles at today's fuel prices, Toyota drivers will pay around £2,670 if they match our figure – an £800 saving relative to the VW over the same distance. 
On the other hand, VW offers a cheaper service package. A three-year deal for the Taigo comes to £386, compared with £570 for the C-HR.
Testers' notes: "The Visual Green paint of our test car is a £630 option that certainly helps it to stand out, and it's a shade that's unique to the Taigo, too." 
Toyota C-HR
| | |
| --- | --- |
| Model: | Toyota C-HR 1.8 VVT-i Hybrid Design |
| Price: | £30,795 |
| Engine: | 1.8-litre 4cyl hybrid, 122bhp |
| 0-62mph: | 11.0 seconds |
| Test economy: | 57.2mpg/12.6mpl |
| CO2: | 112g/km |
| Annual road tax: | £155 |
As we touched upon in our introduction, the C-HR seems to sit a half-class above the Taigo in terms of dimensions, and that's reflected in the car's price. Even without the £940 Scarlet Flare pearlescent paint of our test car, the lower-ranking Design trim comes to £30,915 – £2,720 more than the Taigo costs before options.
Design & engineering
The C-HR is a bit of a trendsetter for coupé-SUVs, being one of the first of its kind outside of the premium brands. Six years after release, it's still one of the most eye-catching; love or loathe the looks, it stands out with its squat stance, sharp headlights and lots of wild angles. It's certainly more distinctive than the straight-laced VW.
It's not quite as thrilling inside, but the way the dashboard is angled towards the driver makes for a sportier environment than its rival. Quality is a match for the Taigo's; the leather-effect dashtop looks and feels smart, while everything seems solidly screwed together. The C-HR lags behind for tech, though. There are no digital dials, but it's not all bad, because the physical climate controls are far easier to use than the Taigo's touch-sensitive layout.
Under the skin, the C-HR uses the TNGA architecture that is common to all smaller Toyota and Lexus models. While a pure-petrol model was available when the C-HR was launched, today there are just two hybrids to choose from; the car we have here is a 1.8-litre four-cylinder that's paired with an electric motor to deliver a maximum output of 122bhp. It's backed up by a small battery to give  short bursts of electric-only drive, while power is sent to the front wheels via an E-CVT gearbox. 
Above that model sits a 2.0-litre version. The hybrid element is similar, but extra power from the petrol engine sees the total output climb to 181bhp. The result is that the 0-62mph time drops from 11 seconds for the 1.8 to a relatively brisk 8.2 seconds.
Driving
It's unlikely that many keen drivers will have high expectations when hopping behind the wheel of a small SUV, but if any model was to exceed them, it's likely to be the C-HR. In terms of ride and handling, it manages to beat the VW at both. It turns into a corner keenly and is pleasingly balanced through the turns. It's supported by a steering system that is precise, has a decent weight and whose speed iswell matched to the response of the chassis. 
That the C-HR also rides better than the Taigo, despite this agility, is what impresses the most. It's composed, controlled and rarely gets flustered, while keeping an even keel for those inside. Individual thumps and knocks are well isolated, and there's a little less road noise than in the VW, too. 
The peace is occasionally interrupted by the engine, however. Toyota has refined its E-CVT gearbox through various generations of hybrid powertrains, but there's no avoiding the fact that, under hard acceleration – or a sustained climb on a motorway – the 1.8-litre engine's revs flare up into a loud, unpleasant drone. It's worth considering the 2.0-litre powertrain for this reason alone; it doesn't need working as hard, so you benefit from better refinement, with only the most marginal compromise in terms of fuel consumption.
The engine noise is a shame, because the electric portion of the powertrain does a great job. It makes low-speed manoeuvres not only silent, but also very smooth. A three-point turn in a C-HR is a much less jerky experience than in a DSG-equipped Taigo. When the electric energy needs a hand, the engine cuts in very smoothly, and shuts off almost imperceptibly when it's no longer required.
Practicality
Not only do the back seats of the C-HR feel a little more gloomy than the Taigo's, but the Toyota is also less spacious. There's not much in it – kneeroom is pretty much the same – but the VW offers a little more headroom, and there's more foot space under the front seats.  
While the C-HR's dashboard looks smart, it's not the greatest for storage. There's a tiny shelf that's more suited to an iPod Shuffle than a modern smartphone, yet it's where the USB port is located, so you need to run the cable across into the central bin or place your device on the passenger seat when it's connected.
There's a decent pair of door bins up front, while in the back they're designed to hold a small bottle. The Taigo's rear door bins aren't very large.
The Toyota's back seats drop in a 60:40 split, and leave an almost-level load area. It's suitable for carrying bulkier items – as long as you can squeeze them through the fairly narrow boot opening.
Ownership
Our Driver Power Surveys show that Toyota excels for owner satisfaction, but VW disappoints. Out of 29 brands covered in 2021, Toyota took fifth overall, while VW languished in 17th. It was a similar story when we collated the customer feedback of dealer service. Here, Toyota took sixth place out of 21 networks, while VW could only reach a lowly 16th.
Running costs
If you're looking at a  company car, then the Toyota will be the one to go for, although there's not much in it. Emissions of 112g/km of CO2 mean the C-HR sits in the 27 per cent Benefit-in-Kind band; that puts it in  a lower bracket than the VW, which is in the 31 per cent band, courtesy of emissions of 134g/km.
However, the Taigo's lower P11d value effectively evens things out. For a higher-rate income taxpayer, VW drivers will face annual deductions of £3,468, compared with £3,320 for the Toyota. 
Testers' notes: "The lower panel of the C-HR's centre console is finished in shiny black plastic. We'd give it six months of family life before it starts to look scruffy."
Verdict
First place: Toyota C-HR
At the smaller end of the coupé-SUV segment, the C-HR is very much a 'have your cake and eat it' kind of car. When compared with its rival here, it's much more fun to drive, and looks more distinctive in a class where style counts for a lot, yet its hybrid powertrain means that it's much cheaper to fuel, and it's likely to be a very reassuring ownership prospect, too.
Second place: Volkswagen Taigo
While the Taigo is a solid effort from Volkswagen, it's not outstanding enough in any one particular area to win this test. There's much to admire here, from the solid drive to the spacious cabin and boot – but it doesn't really offer significantly better value for money than the Toyota, nor is it anywhere near as frugal or fun to drive. 
Other options in this category
Ford Puma ST-Line X
Price: £26,435 
Engine: 1.0-litre 3cyl, 153bhp
Strictly speaking, the Puma isn't a coupé-SUV like the others here, but it's the one to have if you want a sporty drive. Its handling is a clear step ahead of the others here and it's more affordable, but is a little more cramped in the back.
Renault Arkana E-Tech S Edition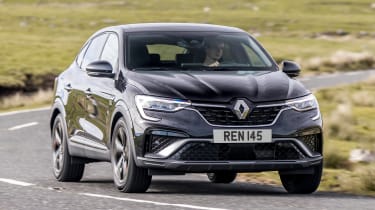 Price: £29,995 
Engine: 1.6l 4cyl hybrid, 143bhp
As with the C-HR, the Arkana is available with a fuel-saving hybrid system, which makes it more fuel-efficient than the Taigo. However, It's let down by an unsettled ride, and rather sluggish performance. It's decent value for money, though.
| | | |
| --- | --- | --- |
|   | Toyota C-HR 1.8 VVT-i Hybrid Design | Volkswagen Taigo 1.0 TSI DSG Style |
| On the road price/total as tested | £30,975/£31,915 | £28,255/£29,980 |
| Residual value (after 3yrs/36,000) | £15,426/49.8% | £15,074/53.4% |
| Depreciation | £15,549 | £13,181 |
| Annual tax liability std/higher rate | £1,660/£3,320 | £1,734/£3,468 |
| Annual fuel cost (12k/20k miles) | £1,602/£2,670 | £2,083/£3,471 |
| Insurance group/quote/VED | 15/£543/£155 | 15/£491/£165 |
| Cost of 1st/2nd/3rd service | £570 (3 years) | £386 (3 years) |
|   |   |   |
| Length/wheelbase | 4,390/2,640mm | 4,266/2,554mm |
| Height/width | 1,555/1,795mm | 1,518/1,757mm |
| Engine | 4cyl in-line/1,798cc | 3cyl in-line/999cc |
| Peak power/revs | 122/5,500 bhp/rpm | 108/5,000 bhp/rpm |
| Peak torque/revs | 142*/3,600 Nm/rpm | 200/2,000 Nm/rpm |
| Transmission | E-CVT auto/fwd | 7-spd auto/fwd |
| Fuel tank capacity/spare wheel | 43 litres/repair kit | 40 litres/£100 |
| Boot capacity (seats up/down) | 377/1,164 litres | 440/1,222 litres |
| Kerbweight/payload/towing weight | 1,425/435/725kg | 1,260/N/A/1,100kg |
| Turning circle | 10.4 metres | 10.6 metres |
| Basic warranty (miles)/recovery | 3yrs (60,000)/1yr | 3yrs (60,000)/1yr |
| Driver Power manufacturer/dealer pos | 5th/6th | 17th/16th |
| NCAP: Adult/child/ped./assist/stars | 95/77/76/78/5 ('17) | 94/84/71/70/5 ('22) |
|   |   |   |
| 0-62mph/top speed | 11.0 secs/106mph | 10.9 secs/119mph |
| Auto Express econ (mpg/mpl)/range | 57.2/12.6/541 miles | 44.0/9.7/387 miles |
| WLTP combined | 57.6mpg | 47.8mpg |
| WLTP combined | 12.7mpl | 10.5mpl |
| Actual/claimed CO2/tax bracket | 114/112g/km/27% | 148/134g/km/31% |
|   |   |   |
| Airbags/Isofix/park sensors/camera | Yes/yes/f&r/yes | Yes/yes/f&r/£265 |
| Auto box/lane keep/blindspot/AEB | Yes/yes/no/yes | Yes/yes/yes/yes |
| Climate ctrl/cruise | Yes/adaptive | Yes/adaptive |
| Leather/heated seats | £1,195/yes | No/£310 |
| Met paint/LED lights | £630/yes | £630/yes |
| Keyless entry & go/pwr tailgate | Yes/no | £350/no |
| Sat-nav/digital dash | No/no | Yes/yes |
| DAB radio/connected services | Yes/yes | Yes/yes |
| Wireless charge/CarPlay/Android Auto | No/yes/yes | No/yes/yes |